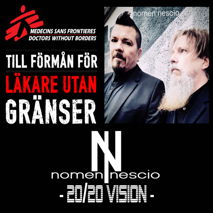 20/20 Vision - Together against Covid-19
Donate
Created By:

Nomen Nescio

Collecting for:

20/20 Vision - Together against Covid-19
Nomen Nescio ask you to donate any amount to a fundraiser in support of Doctors Without Borders and their work against COVID-19. Unfortunately, we have different conditions to cope and deal with crises and diseases here on earth.
Just such a thing as making sure that a covid-19 vaccine reaches all corners of the world, so that everyone can get protection against the disease. Meanwhile, resources are also needed in the form of hygiene items, basic things such as soap and clean water to wash your hands, something that many of us take for granted. Healthcare professionals need protective equipment, respirators, visors, gloves and aprons for medical staff and others in vulnerable occupations.
We paused the recording of our album to write a track for the most vulnerable in the pandemic. The result is the track "20/20 vision" (only available at Youtube) where we reflect over this year.
Please help us help those who are struggling the most during this time, donate any amount to this fundraising.
Make a difference with Nomen Nescio the band, "Together against Covid-19".
Thank you very much for your support.
Take care, stay safe and healthy.
Rob and Mikey
Nomen Nescio
https://www.facebook.com/nnescioband
Donate
2,230 kr


Collected

74% 3,000 kr
Viveca Kinnestam

Donated

100 kr

Tobias Pettersson

Donated

100 kr

Bra låt och ett bra ändamål!

Trevor and Julie Holloway

Donated

200 kr

A little gift to support the vulnerable in the covid-19 pandemic.

Camilla Vahlberg

Donated

100 kr

Lars-Göran Pettersson

Donated

250 kr

Thimmy Svedberg

Donated

100 kr

kicki norström

Donated

30 kr

Michael Svedberg

Donated

400 kr

Merry Christmas to everyone all around the world!

Anonymous User

Donated

50 kr

Christina Frising

Donated

100 kr

Kerstin Wahlberg

Donated

300 kr

Om alla gör en liten insats blir resultatet stort!! Tillsammans kan vi göra underverk!

Robert Vahlberg

Donated

500 kr