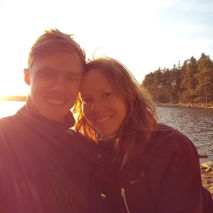 Created By:

Anna Ohlin David Saletti

Collecting for:

Bike Diem
We are a Swedish couple cycling ~26 000 km from Lund, Sweden to Cape Town, South Africa between March 2018 and September 2019.
While doing this trip, we also want to seize the opportunity and remind everyone that while we our moving south trough Africa, many more people are moving north, fleeing from conflicts and poverty. This is why we have started this fundraiser.
Read more about our trip on our
blog
or on
instagram
Donate
2,550 kr


Collected

10% 26,000 kr
Anonymous User

Donated

500 kr

Anonymous User

Donated

200 kr

Anonymous User

Donated

600 kr

Sabina Saletti

Donated

250 kr

Grattis på födelsedagen! Hoppas ni får en fin resa!

Karin Träff Nordström

Donated

500 kr

Får tårar i ögonen när jag läser om er passion och ert engagemang! Må ni ha en fantastisk resa! ❤️

Eva Saletti

Donated

500 kr