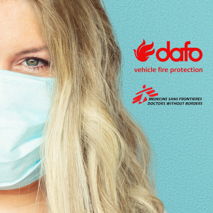 Defeat And Fight the Outbreak of Covid-19
Donate
Created By:

Fredrik Rosén

Collecting for:

Defeat And Fight the Outbreak of Covid-19
Dafo Vehicle supports Doctors Without Borders by necessary,
Aid through
Fundraising to
Obtain a safer world

Dafo Vehicle is a manufacturer of fire detection and suppression systems for Heavy Vehicles, operating globally.

The Covid-19 virus knows no borders. Neither does the work of Doctors without Borders.

We believe that if we join forces we will overcome the Covid-19 crisis so that we all can operate without limits in the future.

We have taken action.

Would you like to join us in our fight?



Donate
4,400 kr


Collected

22% 20,000 kr
Simon Lundström

Donated

300 kr

Johan Balstad

Donated

300 kr

You are doing a fantastic job!

FokHus AB

Donated

500 kr

Samuel, Filip och Smilla Rosén

Donated

300 kr

Dafo Brasil

Donated

1,000 kr

Dafo Vehicle Fire Protection

Donated

2,000 kr