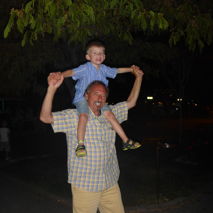 In loving memory of Rade
Donate
Created By:

Hristina Bodin

Collecting for:

In loving memory of Rade
Rade was strong, fearless and had a huge heart. Now in the afterlife he still brings people together and shows us all the meaning of life!

Rade was taken too soon by glioblastoma multiforme, currently one of the most lethal and untreatable of all human tumors. Please give support to change this! Donate to help research on brain cancer - a relatively undeveloped researched field in great need of support!

In swedish:
För att hedra Rades liv och minne har de närmast anhöriga startat en insamling i hans namn i Hjärnfonden. Insamlingen riktar sig speciellt till forskning om hjärntumörer - ett forskningsområde som är i stort behov av mer finansiering för att möjliggöra nya upptäckter, vilket i princip inte skett de senaste 20 åren. Med mer forskning ökar möjligheten att hitta botande behandlingar för den idag obotliga hjärntumören glioblastom multiforme som tog Rades liv. Glioblastom multiforme anses idag vara den mest dödliga av alla tumörer som drabbar människor. Det måste vi ändra på!


Donate
Hristina Bodin donated 500 kr
Blagoja Damjanovski

donated

300 kr

Hristina Bodin

The message below is in the order: english/swedish/macedonian.

--------
We are deeply indebted to all donations made to "In loving memory of Rade". In only 11 days we managed to collect 17 500 kr for research on brain tumors. What a fantastic achievement! Thank you!

We are also very thankful to all who participated in the memorial service in memory of Rade on March 1st 2019, in Limhamn. You created good memories for us that will help us carry on with life.

We will continue to fight this horrible disease.

With great love,

Family Bojcevski/Bodin

--------
Vi i familjen Bojcevski/Bodin vill tacka er alla som har varit med och gett bidrag till Rades minnesfond for forskning om hjärntumörer.

Tillsammans har vi samlat in hela 17 500 kr på endast 11 dagar!

Helt fantastiskt! Tack!

Stort tack också till alla som kom till Trons kapell på Limhamns kyrkogård den 1 mars 2019 och till minnesstunden på Four Seasons. Ni gjorde dagen både vacker och minnesvärd som kommer hjälp oss att gå vidare.

Vi kommer att fortsätta kampen mot denna hemska sjukdom.

Med stor kärlek,

Familjen Bojcevski/Bodin

--------
Golema blagodarnost za site donaciit. Samo za 11 dena uspeavme da soberime 17 500 kr! Stvarno fantasticno! Isto taka mnogu fala za prisustvuvanjeto vo porgebnata ceremonija vo "Trons kapell" vo Limhamn na 1 mars 2019.

So golema ljubov do site,

Familijata Bojcevski/Bodin
--------




Anonymous User

donated

2,000 kr

Goleminata na eden covek se gleda po svojata dobrina. Ti bese toj covek koj sto mi ja otvori vratata i mi go pokaza praviot pat. Ke ni nedostigas mnogu. Sekogas ke ostanes vo nasite srca. Pocivaj vo mir Od Mitko,Josiv i fam.Atanasovi

Violeta Bosevska

donated

500 kr

Od Violeta Bosevska so familiata, i od Ljubica Lazarevska so familiata.

Emelie Bäckelin Hjärnfonden

Wow, bra jobbat med insamlingen! Och vilket fint syfte. ❤️ Forskningen om hjärntumörer är verkligen viktig.
Tveka inte att höra av er om ni har några frågor.
Vänliga hälsningar, Emelie på Hjärnfonden
info@insamling-till-hjarnfonden

Slavi Silver Tholson

donated

1,000 kr

Vår saknad är stor efter dig älskade RADE! Din mamma Loise Slavi & Ulf Robert, Dung & Gustav "lill Rade" Mikael, Christina, Alexander & Amanda

Josif i Milka Naumovski

donated

500 kr

Pocivaj vo mir. Sekogas ke se sekavame na tebe. Familija Naumovski i familija Zivkovic

Caroline Sjödin

donated

1,100 kr

Alltid saknad, aldrig glömd! Beatrice, Famka, Samka, Caroline, Aliki, Tihana, Oana, Stefan, Dawan, Deyan, Vladislav

Hristina Bodin

Tack för alla donationer! Rade visar oss alla meningen med livet, dvs att vi tillsammans kan skapa möjligheter för goda ändamål i världen.

Thank you for all your donations. Rade shows us all the meaning of lite, that is bringing people together with the aim to achieve good in the world!

Vera Bojcevska

donated

5,000 kr

Jag saknar dig, vila i frid

Ing-Marie Hansson

donated

300 kr

BDO Syd KB

donated

1,000 kr

En sista hälsning från BDO Syd.

Aina och Anders Hammarqvist

donated

500 kr

Lili Friberg

donated

800 kr

Tack för allt Rade! En sista hälsning från Slavka och Lili,

Stefan Åkesson

donated

300 kr

En sista hälsning från Ulla och Stefan.

Dimitar Bicevski

donated

200 kr

Eva, Kenneth, Camilla, Emilia och Tim Bodin-Olsson

donated

800 kr

Aliki Bendzovski

donated

1,000 kr

We shall always remember you with joy. You were a very nice and lovely person. You are missed. You must rest in peace between all angels.

Slavi och Ulf Silwer Tholson

donated

500 kr

Älskad - Saknad Slavi & Ulf

Robert Silwer

donated

500 kr

Älskar dig för alltid! Robert, Dung & lille Rade

Mamma Loise

donated

500 kr

Älskade SON ... Saknaden är stor Din mamma

Mikael Silver

donated

500 kr

Hristina Bodin

donated

500 kr