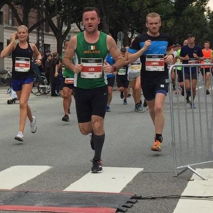 Skapad av:

Leo McCauley

Samlar in till:
Amsterdam Marathon for War Child
On Sunday October 15th, 2017 I ran the 42nd Amsterdam marathon for War Child, an NGO that helps kids in war zones and conflict-affected areas. I finished in a time of 3:34, in a position of 2852.
Fundraising started on September 26. Donations before, and after, the 42KM race saw us achieve our SEK 42,000- (£3,900 €4,380 $5,200) target by October 20th.
THANK YOU to all who donated and shared!
You can still donate until
midnight of Wednesday October 25, when this fundraiser will close.
All this started late in September when I collected my 8-year-old son
Charlie
from school. He told me about a new classmate "who's from a country at war". This got me thinking about kids in war zones: how they cope, what happens to those who
don't
make it out, and displaced families who end up in refugee camps.
It also got me thinking about what individuals (and not just governments and NGOs) can do to make a difference. And that's how I hit upon the idea of running the Amsterdam marathon for a purpose. I'd run 34 half-marathons and 17 marathons but Amsterdam was the first time I ran for charity. So #18 was special.
Where will your money go?
Examples of how your donation for War Child Sweden will be used:
40
kronor (£3.75/US$4.90/CAN$6.18/€4.20) is enough to buy a school kit for a girl in Afghanistan.
100
kronor (£9.30/US$12.30/CAN$15.40/€10.50) covers education material for three kids in psychosocial sessions.
130
kronor (£12.19/US$16/CAN$20/€13.60) is enough to provide peace and conflict training for kids, including their transport, snacks, lunch, material, tutor and room.
180
kronor (£16.80/US$22/CAN$27.80/€18.90) covers the cost of overalls for Colombian youngsters as they learn to repair their bikes.
2000
kronor (£187/US$246/CAN$308/€210) is the cost of training six local 'I Deal' facilitators who can change the lives of kids for the better.
150,000
(£14,000/US$18,500/CAN$23,000/€15700) is the cost of building and furnishing a 'Safe Space' for kids.
Give what you can so that
War Child
can help children caught up in conflicts around. Please share with family, friends and colleagues.
More info:
War Child International
2017 Amsterdam Marathon
War Child Sweden
Currency Conversions:
100 kronor = £9.30 US$12.30 CAN$15.40 €10.50
300 kronor = £28 US$36 CAN$46 €31
500 kronor = £46 US$61 CAN$77 €52
1000 kronor = £93 US$123 CAN$154 €105
War Child UK: Where your money goes
Thank you for your support,
Leo & Charlie
Erwin Zijlstra

Donerade

500 kr

I am a great fan of War Child so good luck!

Leo McCauley:

Dag Edwin!

Dank u wel. Een prettige dag verder!

-Leo

Pub Hörnet

Donerade

100 kr

Jean-Claude Geha

Donerade

500 kr

Well done!

Leo McCauley:

Hi JC! Merci!!!

-Leo

Leo McCauley

Dear Supporters,
Friends and colleagues have asked me to keep this site open until pay day so it'll remain open until midnight next Wed 25 October.
Kind wishes,
Leo

Pelle Nielsen

Donerade

500 kr

Great initiative

Leo McCauley:

TAK Pelle! Appreciate the your support!

Best,

Leo

Leo McCauley

Dear Supporters! WE DID IT!! WE ACTUALLY DID IT!!!

You and 128 other amazing people supported myself, War Child, Charlie, and the world's innocents by actually doing something with a purpose. And all from a little boy telling his dad about his day at school. Together we have raised over
SEK 42,000 £3,900 €4,380 CAN$6,500 US$5,200.

Before, during, and after the Amsterdam marathon, you've been a credit to yourselves, your family name and your nation. You know who you are so be very, very proud! You don't know them, but the small team at War Child Sweden (5 people) are very very grateful for what you've achieved.

Our fundraiser closes this Sunday so anything from here on in is a bonus :)

From the bottom of our hearts, Charlie and I THANK YOU and are proud to call you our friend. I'll draft a post-fundraiser summary, which all 129 of you will have the chance to review and approve before I publish. Those who gave anonymous donations will remain so, unless they wish otherwise.

And if I may, a special mention to my partner Maria, without whose support all this would never have happened. I know I made mistakes along the way, but advice I received from people who are a lot better at fundraising than I am, put things back on track. But as 'Dare to Fail' seems to be my motto, I think at this moment, we can all consider ourselves winners. #awesome

WELL DONE US!!!
Have a relaxing (at last!) weekend.

Leo and Charlie
(+ Maria, Alicia and Sean:)
#awesome













Annica Nilsson

Donerade

200 kr

Leo McCauley:

Tack Annica!

DG's Sports Bar

Donerade

1 000 kr

Leo McCauley:

Tack Feti & Co! Nu får jag en öl?!!! :)

/Leo

Anonym användare

Donerade

2 730 kr

It is a very worthy case, great to see Leo driving this to help these charities.

Leo McCauley:

Dear Whoever Who Are,

If ever there was a time for a #awesome moment, this is it. THANK YOU. Please send me a message (F2F/mobile/email/). -Leo

Madara Stale

Donerade

500 kr

This is absolutely brilliant Leo!!

Leo McCauley:

Hello Madara!

FANTASTIC - you've just taken us over SEK 39,000! Well done!

Love to all at Ecco!

-Leo

Leo McCauley

Hi all,

We're now just 8% away from our target! Those of you who donated anonymously: please inbox/text me so I know not to bother you again over the weekend. Your name will remain anonymous.
Have a great weekend!

-Leo





Bahar Rasouli

Donerade

300 kr

Best of luck Leo/ Bahar

Leo McCauley:

THX again, Bahar!

-L

Jeanette Irekvist

Donerade

100 kr

Leo McCauley:

TACK Jeanette!

/Leo

Siri Brehm

Donerade

200 kr

Väldigt bra initiativ! Tack för att jag får hjälpa till!

Leo McCauley:

TACK Siri!

/Leo

Monica Berggren

Donerade

500 kr

Well done!

Leo McCauley:

Hej Monica,

STORT TACK!!! KANON

/Leo

Graeme Nadasy

Donerade

250 kr

Thought I'd better go the whole hog considering you are. 3.34 leaves me breathless with admiration.

Leo McCauley:

Thanks AGAIN, Graeme!

Best,

Leo

Leo McCauley

Dear Supporters,

Sunday's marathon in Amsterdam may be behind us, but now it's the final 5K of this fundraiser. I finished in a time of

3:34:09 in 2,852nd place,

in what was a very hot day (25C). You can see

from my split times

that everything was fine up until the last 7K. It was very disappointing not to get under 3:30, but compared to last year, I ran 18 mins faster.

Just like the last 5K of the race, getting donations is proving very difficult. I'm working behind the scenes contacting people to help us finish the job. Since the start of this initiative, I've contacted around

250

people directly, of whom

120

people (that's you) have donated.

I'm determined not to give up. We can reach the final SEK 42,000 (£3,900 €4,380 $5,200) finish line. Now I need your help to

SHARE

this page with friends, family and colleagues and

ENCOURAGE

them to pitch in to get us over the final 42K finish line!

Have a great weekend,

Leo & Charlie

Maria Rudenschöld

Donerade

300 kr

Heja dig!

Leo McCauley:

Hej Maria,

TACK igen!

Mvh,

Leo

Gittan Sverla

Donerade

150 kr

Bra jobbat Leo! Hoppas att ni når målet 42K....👍😉 Kram

Leo McCauley:

Tack igen Gittan!

Mvh,

Leo

sean mclaughlin

Donerade

300 kr

heres my donation Leo

Leo McCauley:

Hi Sean,

THANKS AGAIN! Have a super weekend!

-Leo

Anonym användare

Donerade

200 kr

Well done, Leo. A great cause.

Leo McCauley:

Hi there,

Please inbox me so I know who you are. Your name will remain anonymous.

BR,

Leo

Helene Birknert

Donerade

300 kr

I admire your stamina and grit - both on and off the track!

Leo McCauley:

THANKS AGAIN Helene!

-Leo

Sara Morge

Donerade

300 kr

Good luck from Sara

Leo McCauley:

TACK SARA!

Trevlig helg,

Leo

Maria Townsend

Donerade

300 kr