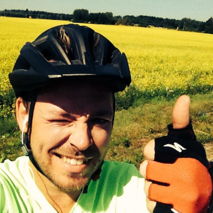 Biking for charity (Uppsala -> Manchester)
Donate
Created By:

Linus Lind

Collecting for:

Biking for charity (Uppsala -> Manchester)
Uppsala --> Moston, Manchester
• Charity Bike Ride

On the 23rd of June I will embark on a charity bike ride from Uppsala, Sweden to Manchester, UK in order to raise money for "Doctors without borders (MSF)" (
http://en.wikipedia.org/wiki/M%C3%A9decins_Sans_Fronti%C3%A8res
) which is a humanitarian-aid NGO with over 20000 medical (and other) volunteers that work in war-torn regions and developing countries facing endemic diseases.
• Why?
Well first of all, while these doctors, nurses (and others) are volunteering their time and security to solve issues of world health in regions that needs it the most and I reckon the least we can do is to chip in a bit to help people who are less fortunate than we are.
• Why Manchester?
My journey is part a pilgrimage to a very special football club called FC United of Manchester. The club is owned by it's fans and run on a democratic principle which is not very common in football these days. They also do a lot of social and community work and has finally been able to build their own stadium which will be my final destination.
• The Challenge!
I promise to...
ride my bike from Uppsala to Manchester, covering about 2500-3000 km in the process. (As long as I don't injure myself of course)
In return...
I only ask you to make a small (or big) donation to Doctors without Borders. The goal for this fund-raiser is to collect at least 10000 SEK (or about 1075 Euros). If we can go beyond it, even better!



Please give a donation here on the site, everything helps!

100 Swedish kronor (SEK) is roughly 10.8 Euros or 8.55 British Pounds. You can pay pay VISA and Master Card, just click the button "Give Donation" to make a donation!
• How can you help?
1) Give a donation in any kind of size (even a few coins matter).
2) Share this donation page to your friends on social media.
3) Invite your facebook friends to the fund raiser event page
4) Blog about the fund raiser or spread the news in some other creative way!
Thank you for your support and help!
Donate
26,281 kr


Collected

131% 20,000 kr
Ossi Rani

Bra jobbat! Dina extra kilo ges till de mer behövande så att säga.

Lynette Cawthra

donated

100 kr

Belated congratulations Linus, from an FC United fan in Manchester. Brilliant work. Look forward to meeting you at Broadhurst Park!

Rick Simpson

donated

691 kr

this donation is the cash handed to Linus during the FCUM v Ramsbottom game on Saturday 30th August

Moa Mackegård

donated

50 kr

Hej Linus! Jag tycker att det du har gjort är helt fantastiskt. Jag har tänkt donera, men skjutit upp det och varit bortrest mycket. Nu tar jag sista chansen att få bidra. Tyvärr är jag rätt så pank och kan inte avvara så mycket, men ändå!

Larisa Jusufbasic

donated

100 kr

C B

donated

150 kr

Eva Johansson Wallsten

donated

250 kr

Sofie Johansson

donated

300 kr

Erika Backman

donated

300 kr

John O'Connor

donated

110 kr

Marianne & Nisse Erixon

donated

500 kr

We are impressed, you do things others only talk about. Be proud, enjoy and have a good time in England.

Fredrik Sveijer

donated

1,000 kr

Jonathon Clegg

donated

300 kr

Well done Linus. Sorry I can't be there this weekend mate. I'll make sure to buy you a pint next time I see you.

Richard Parkinson

donated

1,000 kr

Well done, a fantastic achievement. Hope we can meet again before too long.

Robin Niklasson

donated

250 kr

bra jobbat Linus! skrik till nästa gång så hakar jag.

Adrian Seddon

donated

100 kr

Almost there. Congratulations!!

Daniel Wallsten

donated

200 kr

Bra jobbat kombo!! Här kommer min donation i sista sekunden.

Hanna Wistrand

donated

250 kr

Anonymous User

donated

400 kr

Bryan Allred

donated

230 kr

Well done Linus, your another Ambassador in Sweden for FC United......

Sara Linderman

donated

400 kr

Red Tinted Specs Red Issue

donated

200 kr

terry voaden

donated

200 kr